Course Novel Sensing Technologies
On-campus
Ready to join us on a journey to revolutionise the world of postharvest technology? Our course on novel sensing technology is the perfect opportunity to learn how to detect and measure physical phenomena in fresh horticultural products, providing more detailed insights into their properties. By following this course, you can make further steps in using data modelling for quality measurements and assessment of fresh horticultural products and make a real impact in reducing food waste.
You will learn about the latest advancements in non-destructive sensing technologies. Next to that, you will learn how these tools can be applied to increase yield, improve postharvest quality and make better decisions in fresh supply chains. Join us and gain valuable knowledge and skills in this exciting field.
Organised by: Wageningen Academy
When: Tue 14 November 2023
Duration: 3 days
Price: EUR 1,695.00
Registration deadline: 22 October 2023
The course content development has received funds from the DIP4Agri – Deep Tech Innovation Programme for Agrifood.
---
Why follow this course?
After successfull completion of this course, you have learned:
The basic principles behind different sensing technologies and modelling approaches for analysing physicochemical properties of fresh produce.
Furthermore, you will understand the capabilities and challenges and can start applying new sensing approaches in your own business.
Is this course for you?
Are you a technical professional in the fresh produce supply chain? Are you involved in quality assurance, safety, logistics, research, or related activities? This course might be relevant for you.
Our focus on (postharvest) quality will equip you with the skills you need to excel in your field. You can find your focus points in this course in breeding, production, trade, retail, or tech development.
No prior knowledge of the course topics is required.
Programme & topics
The course offers a mix of lectures, demonstrations, networking, and ample time for discussions and questions. Together, you will explore the challenges of:
Capabilities and challenges of current and future sensing approaches for assessment of fresh horticultural products (fruit, vegetables, flowers and potted plants)
Where and how the different sensing approaches can be used
The novel modelling approaches to make meaning to sensor data
Handling different sensors, learning about continuous monitoring, signal processing and sensor technologies.
If you're interested in the programme download the flyer for more information.
Dr. Puneet Mishra, PhD, Course Leader Novel Sensing Technologies

Sensing technology is like having superpower eyes to make better-informed decisions in the fresh supply chain.
Practical information
Price
The course fee is € 1,695.- per person and covers tuition, course materials, demonstrations, lunches and one dinner.
PhD discount
For research students/PhD students, we offer a reduced course fee of € 1,125.-.
Participants
For this course, we expect between 20 and 30 participants.
Accreditation
After attending this course a certificate is issued.
Coordinated by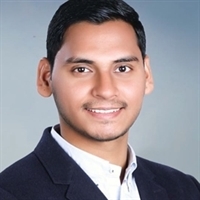 Deadline for registration
Registration will close on the 22 October 2023.
More information & registration
You can register for the this course or download the flyer. Questions? Contact Wageningen Academy.